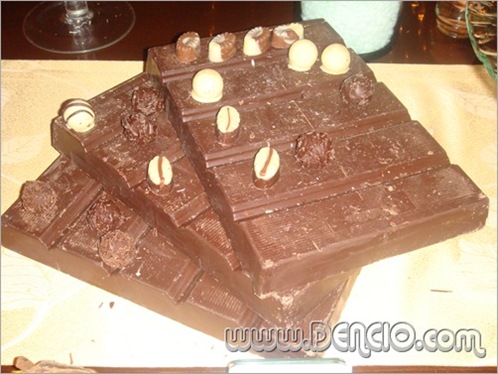 Manila Peninsula Hotel
Ayala Ave Corner Makati Ave, Makati City
Tel: (02) 887.2888
Yes! Finally! The event that all chocolate lovers have been waiting for, The Manila Peninsula's Famous Chocolate Buffet is Back!
I was able to try this a couple of years back. Check it out HERE. It was called Tsokolate-Ah, now it will be called Chocolate Symphony Buffet. Hopefully this year, it will be a bigger and better chocolate buffet. More details after the jump…
The buffet will still be served at the magnificent lobby of Manila Pen and it will be offered on a limited time only.
Manila Peninsula Chocolate Buffet (2010) Schedule:
The chocolate buffet will run from December 4 to 30 (every Friday and Saturday only except Christmas Eve) from 8:00pm – midnight. That's 4 weeks of sinful indulgence!
Mark your calendars!
December 3 and 4, December 10 and 11, December 17 and 18, and Finally on December 25.
Manila Peninsula Chocolate Buffet (2010) Rates/Prices/Discounts:
NOTE: +++ 10% SC, 12%VAT, 1.22% Local Tax (total of 23.22%)
Chocolate Symphony Buffet
Php 600+++ (adult)
Php 360+++ (per child under 12)
>> This is the Standard Chocolate Buffet. I am not sure what will be on the Menu this year, but last year, there were Chocolate Bars, Cakes, Ice Creams, Cookies, Fondue, Brownies etc. DRINKS ARE NOT INCLUDED in the buffet. Hopefully this year it will be grander!
Sweet Endings
End your dinner at the chocolate buffet after dining at any of The Peninsula restaurants.
Php 400+++
>> If you had dinner in one of their restaurants like Escolta or Spices, you may end your meal with a chocolate buffet dessert. You just need to add P400+++.
Chocolates and Champagne
Php 1,000+++ (inclusive of one glass of champagne)
>> Chocolate Buffet + 1 glass of Champagne
Children's Buffet (6-12 years old)
Children's chocolate buffet with a spider boy or milk shake
Php 460+++
>> For the Kids! Spider Boy is similar to Coke Float. The kids eat at the buffet + this 2 drinks.
>> Kids 5 and Below Eat Free!
THE CHOCOLATE YULETIDE AFTERNOON TEA
Dec. 1 to Dec 5
Time : 2:30 pm to 5:30 pm
Php 600+++ (adult)
Php 360+++(per child under 12)
>> This is the current offering at the lobby, an afternoon tea time break, they will just offer chocolate dishes on the menu apart from the usual.
OLD MANILA (One night only)
CHOCOLATISSIMO!
December 8, 2010 at 7:00 pm
Php 3,200+++ inclusive of a special gift from Felchlin Chocolatier
>> This is a Four Course Meal (Possibly with chocolate infusions) and will end with a Sweet Ending!
>> The food will be prepared by their guest Chef Anil Rohira of Felchlin Chocolatier
As expected, the prices are higher compared before. Lucky for you if you have these cards, you get a discount!
Citibank Cards: 10%
Metrobank Cards: 10%
BPI Gold Cards: 15%
Walk-in Guests are welcome but to be sure, since this is a limited offering, you may call the Hotel for a reservation. Based from experience, slots run out fast!
Looking forward to this one! Must Free-Up a date in my calendar! 🙂
Hanggang Sa Muli! Paalam! 🙂
_________________________________
By: DENCIO

Originally Posted On: www.DENCIO.com
Do You Like This Post?
Subscribe to the RSS Feed
Follow me on Twitter
Like me on Facebook
Email Me