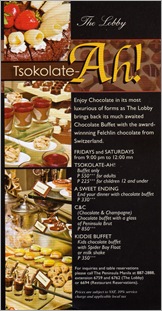 Finally, after days of excitement, we were able to try the infamous Tsokolate-Ah! Chocolate Buffet at the Manila Peninsula Hotel in Makati. The buffet was ok for Me, but nothing was spectacular.
The Buffet was set-up in the Hotel's Lobby, which was very magnificent that evening especially with the Giant Christmas Tree, The Christmas Decorations, and the Live Quartet Serenading the crowd. We were seated right beside the buffet table since we made reservations ahead of time (reservation is recommended because there are limited seats).
For the Buffet, there were 2 small Tables set-up for the chocolates. On them were Different kinds of Chocolate Cakes (4-5 kinds), Ice Creams, White-Dark-Milk Chocolate Fondues, Marshmallows, Fruits, Chocolate Puddings, Chocolate Bars. Chocolates with Stuffed with Stuffs :p, Cookies, Brownies, Chocolate Chips, and some others chocolate stuff.
Since the Buffet table was small, they just replenish the items from time to time… During that time, they just served the same stuff over and over again… for the whole night. We were expecting something different but I guess, that was all that is on the menu…
The Taste was ok, I especially like the Dark Chocolate Fondue, Yum! Yum! However, the choices were limited, I was expecting More like cupcakes, More chocolate bars, and a chocolate fountain! The Fondue was just placed in a covered bowl which was not heated (I think) because the chocolate was hardening already.
I was not allowed to take pictures of the Buffet that's why I was not able to catch the names of the stuff on the table. I asked for permission, but they said I should try on another day and I have to coordinate with the PR man… Hassle?!
Well anyway, other than the limited choices, everything was great that evening, the place was great, people were having fun, the food was delicious. You should try their cheesecake! It was amazing!
I had 4 whole slices of cake, 1 scoop of Ice Cream, and other chocolate stuff on the side… I could say that what I have paid for was worth it… I  Just thought of it this way, a bar of chocolate costs around 200 to 300 pesos… The buffet costs  Php676 net… Plus cakes, and Fondues, and the ambiance, and the free complimentary coffee… Worth It Right?! :p Just as I Thought! :p
Again, Personally, the buffet was OK… But not spectacular.
TIP: "Nakakaumay kumain ng chocolate products for 3 hours!" I suggest you eat other food on the side… Something salty to balance the sweetness of the chocolates. Doing this, you'll probably be able to eat more from the buffet…
Here Are Some Photos…
Next Stop: Pantanngal Umay… Burger!!! Burger!!! Where?! Sa Burger Avenue!!!
By: Dennis Christian Angulo
Originally Posted On: www.DENCIO.com