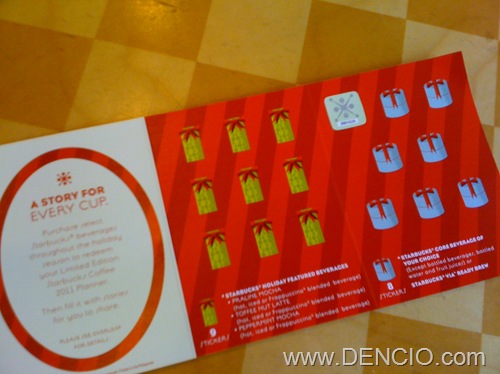 The Game is on once again! Coffee Junkies Rejoice! The Sticker Album for the Starbucks 2011 Planner is now available in all Starbucks Branches Nationwide.
Continuing the yearly Starbucks Tradition, they are offering 3 new cover designs for the Starbucks Philippines 2011 Planner. The 3 designs has 3 different textures:
Cool Clean Stainless Steel, Maroon Velvet Fabric, and Stained Dark Wood Panels
This year, you only need to complete all 17 stickers to complete the coupon. 8 Stickers for the regular drinks and 9 stickers for their Christmas Blends. The barista informed me that this is less that what they required previously ( I forgot how many stamps I got last year).
Another way of collecting stamps is by purchasing their new VIA Instant Coffee. You can get up to 3-stickers per box of 12's.
Aside from the Planners, they also offer a bunch of Christmas Food and Drinks for Our Merriment!!
The Ever popular Peppermint Mocha, Praline Mocha, and the uber sweet Toffee Nut Latte
Here are some of the Starbucks Philippines Christmas Food 2010.
Margherita Pie
Christmas Gingerbread Cookie
Cookie Dough Cheese Cake
Almond Roca Cheese Cake
White Chocolate Cranberry Cookie
Christmas Ham and berry Wrap
Chocolate Toffee Nut Load
Caramelized Hazelnut Chocolate Loaf
Hot Fudge Chocolate Cake with Whipped Cream
Pecan Butterscotch Roll
I have yet to try them all 🙂 But by the looks of it.. I'm sure they are good! :p
Well, Good Luck Sticker Happies! 🙂 Happy Holidays! 🙂
You may collect stickers from 03 November 2010 until 05 January 2010. Redemption of Planners is until 06 March 2010.
Hanggang Sa Muli! Paalam! 🙂
_________________________________
By: DENCIO

Originally Posted On: www.DENCIO.com
Do You Like This Post?
Subscribe to the RSS Feed
Follow me on Twitter
Like me on Facebook
Email Me