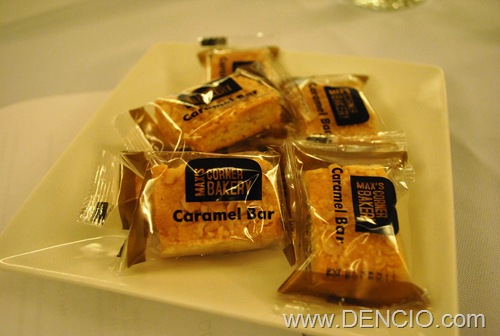 First of All, Happy New Year Y'all! 🙂 It has been a wonderful 2010 for www.dencio.com.
Second – I would like to Thank you guys for all your support and Visits! That's 500K++ Visits from July 2010-December 2010! I know some of you may say that that's not a lot, but for me it is! For that, I am really grateful! 🙂
Third – Thank you for all the resume's, proposals, and reservations that you sent me. Apologies for the confusion. So then Again, this site is not in any way related to dencio's restaurant. Dencio's Restaurant official website is www.dencios.biz. 🙂 But it was nice reading all of them!
Looking forward to a great 2011 with all of you!
Speaking of a great 2011! I really had fun with my very first blog event this year! Organized by Ms. Kim Sanchez of Bright Idea Events Management it was the launch of Max's Crispy Pata Feast! It was a lot of fun! Me and other members of the blogging community were invited! 🙂
Caramel Bars! All Time Favorite! 🙂
We won at the Raffle! 🙂 Above – Atty. Kirby Below – Me – Winning Something Finally! 🙂 I never win on these raffles! 🙂
Above Kirby and Ajay of www.Annalyn.Net 🙂
The other blogs that was there at the event were the following 🙂 (Courtesy of Bright Idea)
www.pinoybeer.com
www.aileenapolo.com
www.raincontreras.com
www.chefwardskitchen.com
www.nomnomclub.com
www.silkenhut.com
www.kumakain.com
www.thekatscorner.blogspot.com
www.pinoytumblr.com
www.talesfromthetummy.com
www.thesugarbug.blogspot.com
www.annalyn.net
www.kaininmo.com
www.foodtrip.info
www.hyukta.net
www.jennmanigao.com
www.apriltadena.com
www.gregjosephdiaz.com
www.kainpinoy.com
www.azraelcoladilla.com
www.foodtrippings.com
Looking forward to another event with these guys! 🙂
The Second event is already booked! 🙂 Happy 2011! 🙂
Hanggang Sa Muli! Paalam! 🙂
_________________________________
By: DENCIO

Originally Posted On: www.DENCIO.com
Do You Like This Post?
Subscribe to the RSS Feed
Follow me on Twitter
Like me on Facebook
Email Me