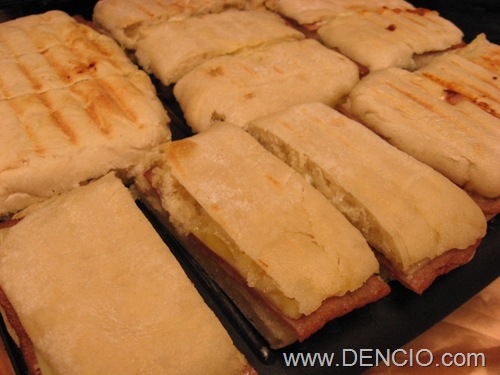 I must say, Microsoft really knows how to hold an Event. They fill your tummy first with great food then your head with Information! You cant explain something to a Man with who has an empty stomach! Win-Win! :p
The menu that night… and the Best part of the event :p
I will start with the Panini – Ham and Cheese Panini! It was Soo Good! Crunchy on the Outside, Chewy and Gooey on the Inside! Yum!
Then Every table has a plate of Nachos and a Big Bowl of Spicy Cheese Dip!
Nachos + San Mig Light! = Better!
Off to some heavier stuff, Juicy Chicken BBQ
Crispy Chicken Lollipops!
Spaghetti with Tomato Basil Sauce…
Then For Desserts There were Fresh Fruits Slices and Assorted Brownies – which I was not able to take a picture.
Strawberry Iced Tea…
The Food was amazing, I was already in cloud nine – and the event hasn't even started yet! Can't wait for the next one…
I must know the caterer for this event, again, their Panini was to die for! :p
Hanggang Sa Muli! Paalam! 🙂
_________________________________
By: DENCIO

Originally Posted On: www.DENCIO.com
Email Me | Post a Comment | Subscribe to My BLOG (RSS) | Follow me on Twitter