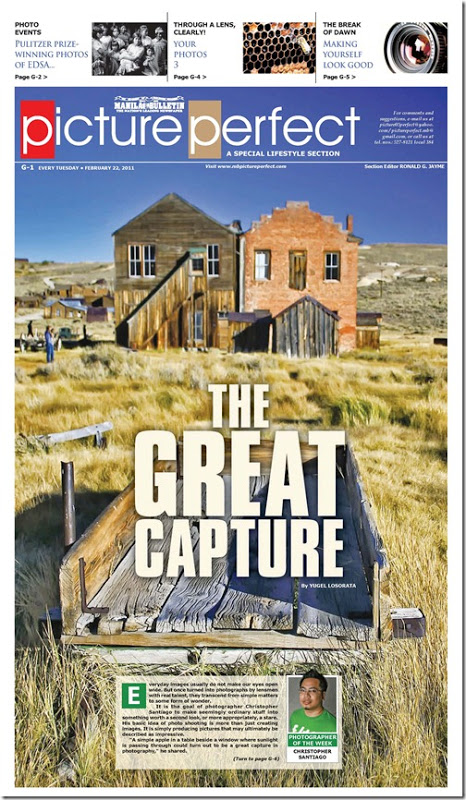 Check out Manila Bulletin's Picture Perfect Section Last 22 February 2011.
My Friend (kelangan talaga sabihin ito) Mark Lester Gatchalian and his IR photo of Bacolod's "The Ruins" was one of the featured photo/photographer. Kudos! :p
Here's the write-up about Gotch and His Photo:
"Mark Lester Gatchalian, a professional in a petroleum company shares that he has been "seriously shooting for over a year now" although his interest in photography started in elementary. Today, he is an alumnus of PCCI and a probationary member of SPPP (Society of Portrait Photographers of the Philippines).

He is also active in still-to-beregistered groups: DCC or Dasmarinas (Cavite) Camera Club, Parokya ni Deri (mentor/adviser Ibarra Deri), and Southern Light Cameraderie (mentor/ adviser Ibarra Deri). Gotch's photo is an IR version of "The Ruins," a famous landmark in Bacolod."
Great Job! Many More to Come! Sana ako Naman ma-feature next time!
You may read the entire section HERE.
Credits to Manila Bulletin/Manila Bulletin Online Edition.
By the way, Did you know that you can read The Manila Bulletin ONLINE! DAILY! Yes! They have an online version of their daily paper. It's free and just as complete as the print version. Just Visit HERE and sign up. The picture perfect section is only available every Tuesday.
Hanggang Sa Muli! Paalam! 🙂
_________________________________
By: DENCIO

Originally Posted On: www.DENCIO.com
Do You Like This Post?
Subscribe to the RSS Feed
Follow me on Twitter
Like me on Facebook
Email Me