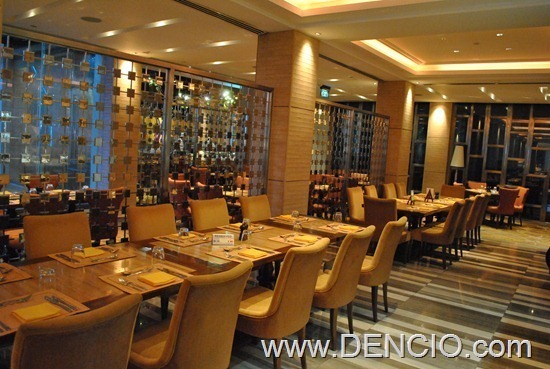 This is an article I submitted on one of our internal global office publication. I thought, I will share it with you guys as well so that you could let me know what you think. Do you agree? Or Not? Or you have other Ideas in mind? 🙂 Well, here it goes!
---
Manila, Philippines – A place where buffet is a serious business.
Once upon a time in Manila, buffets were expensive and only exclusive to hotels and resorts. Now, times have changed; buffets are cheap; served everywhere and offered from the time you wake up in the morning up to your midnight snack cravings.
Whether you are craving for Japanese, Filipino, Thai, Malay, Chinese, Korean, Indian, Australian, Italian, Continental, Spanish, Mediterranean, South American, French, Mongolian and even Chocolate (Yes, we do have chocolate buffet)! Everything you want is just within a 3-mile radius from each other with prices ranging only from $5 up to $80.
I was in KL few weeks back and my friends there who went to manila few months ago mentioned that Shangri-La's breakfast buffet was so huge. It is bigger than some Dinner buffets in KL! Well… that is how serious we are when it comes to buffet.
Here are some reasons why I think Filipinos love buffet.
1. Filipinos love heavy Breakfast!
Breakfast is the most important meal after all right? When other nationalities indulge on cereals, eggs and toasts for breakfast, Filipinos eat Rice (Steamed and Fried), Bread, Pancakes, Pasta (Yes, Pasta!), Noodles, Porridge – YUP! That is Carbs on Carbs on Carbs! – Assortment of processed meats like hotdog, sausages, corned beef and luncheon meats, bacon, and ham are also served. Buffet breakfast usually starts at 5:30am up to 10:30am (Lunch Starts at 11:30AM).
2. It is cheaper than eating Gourmet or Fine Dining.
When you dine in a fine dining restaurant, a complete course will cost you around $100-$200 per person and you get limited choices – and if you do not like one particular dish in the set – it will be such a waste of money. But if you go to the fanciest and longest buffet in Asia at Sofitel Manila, Not only that you get to pay a Maximum of $80, the buffet already includes great steaks, assortment of sea creatures, a chocolate room, and a cheese room where you can find all the cheese that you would think of – Again, All of these and more for just $80. That's cheap considering that you are in a 5-star hotel, you don't get to sacrifice the food quality, taste, and ambiance. If you are feeling frugal, there is also Vikings Buffet where you pay only $20 and you get to enjoy Steaks, Seafood, Bottomless Sodas, Juices, Beers, and wait for it – Caviar! #Fancy!
3. Choices, Choices, Choices!
Sometimes you crave for something to eat. But sometimes you are not really sure what you want. So buffet is a good place to start. I'm sure there's something that will tickle your taste buds.
4. Great for entertaining guests.
Being known for our extreme hospitality, Filipinos love to eat with our guests. It is considered the ultimate bonding experience. But sometimes, if you are not that familiar on the food preference of your guest or if you just don't have the time to take their request one by one, Then buffet is the perfect place to go!
5. Filipinos don't really enjoy going through an extensive menu.
FACT! Filipinos just want to sit down and eat whatever.
A common scenario when a group of Filipinos dine – looking at the menu – one will ask "what are you having?" the other person will answer "whatever you're having or whatever he's having" then a response of "I don't know what I'm having" then that conversation will be concluded by calling the waiter and asking for the house best seller. A buffet takes away that hassle. You get more time eating and chatting instead of deciding on what to order.
6. Easier to split the bill.
As tedious as ordering your food, Splitting the bill after the meal is a pain! Usually in a group of friends, there is a dedicated or self-imposed accountant who tries to split the bill as fairly as possible but sometimes there is no one to do that. In a buffet, everyone gets to pay the same amount.
7. No left overs to take away.
Eating ala-carte especially in large groups, you tend to order a lot and end up not eating them. In a buffet, you only get what you can eat. No need to take away left overs especially when you need to be somewhere else after the meal.
8. Filipinos just love to eat – A LOT!
I could list hundreds of logical reasons – Blah! Blah! Blah! – but the real reason is simple – Filipinos just love to eat. If you want to experience it first hand, go to Manila for a training or Business Trip. The first thing that your Filipino Colleague will ask you when you meet them are – How was your flight? How's the traffic? Have you eaten?
If you attended a training here in Manila, you probably know that you will be coerced to eat a minimum of 5 meals a day with a 2-hour interval. I'll show you a typical training meal plan –
Pre-Meeting: Coffee, Tea, Sandwiches
AM Snacks: Noodles, Pasta, Sandwiches
Lunch: Rice +++
PM Snacks: Pasta, Sandwiches, Some Sweet Delicacy Made from Rice
Dinner: Rice +++
Peanuts, Cookies, Candies in between sessions
So, Buffet as a choice for a meal is a no brainer right?
If you want to see some of the best buffets in Manila – Head over to this link: http://www.dencio.com/2012/10/denciocoms-list-of-best-buffets-in-and.html
Hope you enjoyed reading my first contribution. Looking forward to your feedbacks.
---
So what do you think? Feel free to Correct Me! Hahahahaha! 🙂
Hanggang Sa Muli! Paalam!
_________________________________
By: DENCIO
Originally Posted On: www.DENCIO.com
Do You Like This Post?
Subscribe to the RSS Feed
Follow me on Twitter
Like us on Facebook
Email Me
Read More Posts HERE