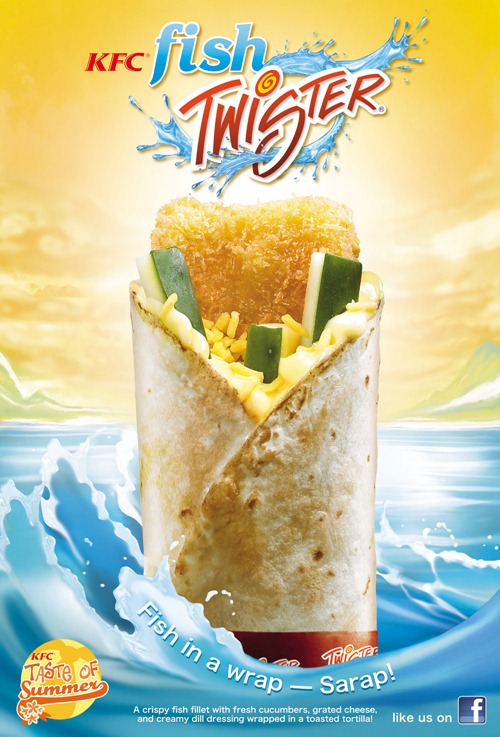 This summer, Treat yourselves and your family to these New, delicious and healthy treats from KFC!
First, be healthy and Lenten season friendly with KFC Philippines' new Fish Twister! This is the first-ever fully-fish offering of KFC.
KFC Fish Twister P80.00 (Ala Carte). Crispy Breaded Fish Fillet, Cucumbers, Dill Sauce, Cheese, wrapped in Tortilla. Healthy and Delicious at the same time!
The KFC Fish Twister is only available until the end of April 2011. Go Grab one Now!
Second,Time to beat the summer heat with the new KFC Buko Pandan and Halo-Halo Krushers!
Priced at P65 each, this unique coolers will keep you wanting for more the whole summer season!
These Krushers Flavors are only available until the end of April 2011.
Third is every Kid's delight! The Ben 10 Bucket Meal. This is not your ordinary bucket meal. Your kids will surely love the limited edition Ben 10 Glow in the Dark Tumblers!
For only P630, you get 8 pcs of chicken, 4 rice, 4 siding, and 4 limited edition glow in the dark tumblers!
The KFC Ben 10 Bucket Meal is only available until 25 April 2011. Go Grab one Now!
BUT WAIT! THERES MORE!
"And if these offerings are not enough, KFC turns the heat up a notch through its KFC Taste of Summer online campaign. This online promo asks customers to take photos of themselves in their favorite summer outfits, holding one of KFC's three new products at places which desperately need a summer vibe. Then, these pictures will be uploaded and displayed on KFC Philippines' website at www.kfc.com.ph/summer. Those who feature a Ben10 bucket meal can win a trip for 4 to an Asian theme park like Hong Kong Disneyland, while the Krushers winner can go on a local beach trip for 4 like Coron, Palawan. Last but not the least, the Fish Twister winner gets to pick his destination from the following countries—Bangkok, Hong Kong, or Singapore for an Asian Summer Shopping getaway for 2.
Want to learn more about the KFC Taste Of Summer product offerings and online campaign? Visit the official KFC Philippines website at www.kfc.ph.com/summer or the official KFC Philippines Facebook page at http://www.facebook.com/kfcphilippines."
Now it's time to rush to your nearest KFC stores or call (02) 887.8888 for KFC's hassle free delivery!
Hanggang Sa Muli! Paalam! 🙂
[PS] Want to earn while using Twitter and Facebook! Just Join and Register HERE!
_________________________________
By: DENCIO

Originally Posted On: www.DENCIO.com
Do You Like This Post?
Subscribe to the RSS Feed
Follow me on Twitter
Like us on Facebook
Email Me