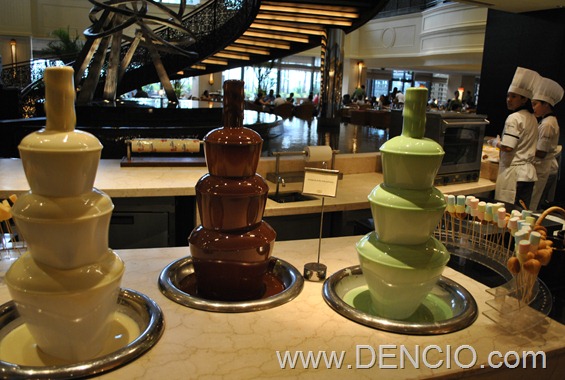 Since typhoon Pedring, majority – if not all of Sofitel's operation have been suspended. Parts of Sofitel Luxury Hotel Manila, particularly Spiral Restaurant was badly affected by the recent typhoon. The hotel operation was suspended and Spiral was placed under renovation. If you are wondering what's the status of the hotel and spiral, please read the following:
Yummy Chocolate Fountains of Spiral: Milk Chocolate, Dark Chocolate, and Pistachio
Sofitel Hotel Rooms and Facilities:
Starting today 10 October 2011, Sofitel Manila's Guest Rooms and Suites have been re-opened. They are now accepting check-ins and new reservations. Other Outlets and Facilities such as the Le Spa, The Poolside, Fever Luxe Lounge, Philippe Tordjman Le Salon and The Zen Institute are expected to resume operation on 30 October 2011. The Pool and Club Millésime are also, fully operational.
Spiral Restaurant:
Sofitel took this chance to renovate and upgrade the look and feel of Spiral Restaurant. According to some sources, Spiral will re-open early next year, but Cash Cash Pinoy recently sent an email that Spiral will be re-opening its doors by June 2012. Either way, it's a long time and Christmas is just around the corner. So where's the buffet?
Sofitel will continue to serve "Special" Breakfast, Lunch, and Dinner Buffets at the Le Bar which is located at the lobby of the hotel. It is a smaller venue and Mostly Spiral Restaurant Specialty Dishes will be served. Lunch Buffet at the Le Bar Costs P1,474 net and Dinner Costs P1,781. Prices are a bit cheaper than Spiral due to the limited number of dishes that will be served. Le Bar will be serving buffets starting today.
Le Bar offers an intercontinental buffet for breakfast, lunch and dinner daily. Such favorites as Pan-fried Foie Gras, US Prime Rib and chocolate fountains will be available. Breakfast comes with free flowing champagne on Saturdays, Sundays and public holidays, while on Sundays, Champagne Brunch features up to 7 brands of champagne and sparkling wines.
Aside from Le Bar, the Snaps Sports Bar and Sunset Bar will also be open to serve breakfast, lunch and dinner. Special a la carte menus have been prepared by Sofitel's multi-awarded Executive Chef Marko Rankel of Spiral fame, and are available at Le Bar, Snaps Sports Bar and Sunset Bar.
Le Bar is relatively small compared to Spiral, It is best to reserve ahead of time.
Spiral Cash Cash Pinoy Vouchers:
For those who availed of the recent Cash Cash Pinoy's 50% on Spiral Promo. Good news! You can either get a Cash refund or CCP credits or you can wait until the new Spiral Opens. Your voucher validity will be extended. Here is the official email from Cash Cash Pinoy regarding the unused Spiral Vouchers. (I used mine already)
Dear CashCashPinoy Member,

Due to the recent typhoon aftermath, the Sofitel Philippine Plaza has temporarily suspended operations in some of its facilities. Rest assured that both CashCashPinoy and Sofitel Philippine Plaza are always in pursuit of the best deals and services. Sofitel Philippine Plaza is already working on a better Spiral Restaurant experience for you, and the operations at the Spiral Restaurant are expected to resume in June 2012. With the creation of the new and improved Spiral Restaurant, our deal will be better than ever.

To show our deep appreciation for your continued support, we are providing you with 2 options:

1. Extend your voucher's validity period until September 10, 2012 to avail of the new and improved Spiral Restaurant; or

2. Refund your purchase through cash or CashCashPinoy credits

After choosing one of the options above, kindly provide us your voucher number/s and contact number.

Should you prefer to refund your purchase, please let us know the mode of payment you used to complete your transaction as well.

To know more details about the state of Sofitel Philippine Plaza, please read their official press release statement here:

http://www.cashcashpinoy.com/page/sofitel-press-release.

If you have any questions or comments regarding this matter, please feel free to contact us at support@cashcashpinoy.com. Rest assured that we will get in touch with you again soon to follow-up your preferred solution option.

NOTE: Please disregard this message if you already availed of your voucher.

Sincerely,

CashCashPinoy Team
I suggest you hold on to your vouchers until next year because there is a big chance that the buffet price will be higher once the newly renovated Spiral Restaurant Opens.
Hope you find these information useful. For more information, you may Call Sofitel Manila at 02.5515555 or 02.5515610.
Hanggang Sa Muli! Paalam!
_________________________________
By: DENCIO

Originally Posted On: www.DENCIO.com
Do You Like This Post?
Subscribe to the RSS Feed
Follow me on Twitter
Like us on Facebook
Email Me