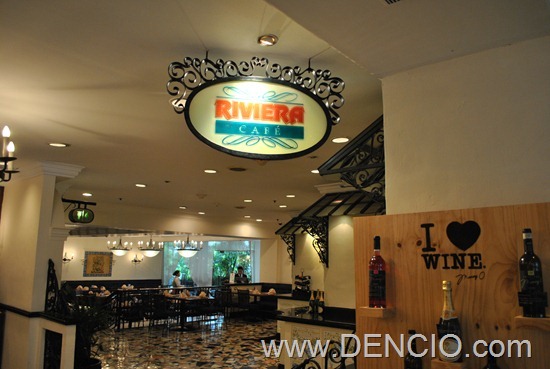 The Heritage Hotel Manila
Roxas Boulevard corner EDSA Pasay City Philippines 1300
Phone: +632 854.8888 | Facebook Page
If you are looking for a hotel buffet in Metro Manila, Riviera Café in Heritage Hotel will not probably pop in your short list, in fact it won't even come to your mind. This buffet has very little exposure when it comes to advertising and word of mouth. If you were asked "Where is the best buffet in Manila?" almost if not always, you would probably say "Spiral" or "Circles" or "Vikings" Who can blame you? These buffets are really popular. But of course, there are still other choices.
If you are in the area of Paranaque or Pasay City you can try visiting Heritage Hotel Manila's Riviera Café. The Hotel is hard to miss, it is right at the Corner of EDSA and Roxas Boulevard. Their buffet is not the biggest in the metro and there's still a lot of room for improvement. The food was good but a bit limited, We went for a Sunday Lunch Buffet – which is supposed to be the best and biggest in a hotel buffet –but still, the buffet was rather inadequate. To be fair, the service was ok, and the food that was served was good. My personal favorite was the Tacos Station, this was the just the second buffet that I have been through which has a taco station, the first was Vikings. Another favorite was the Korean Station where they cook Korean Dishes Such as Korean BBQ and Bulgogi.
Here are the rest of the food during that Sunday Lunch. BTW, they do not allow picture taking of the food and the buffet – hence the lack of exposure – I had to get permission from the staff, to the supervisor, to the chef, up to the Hotel Manager of the day to be able to take a FEW pictures. I asked why they do not allow clients to take photos, the Manager said that they got some negative feedbacks before and they are avoiding exposure… Oh Ok, I respect that.. but isn't it better if you prove the people wrong by offering a better buffet experience and showing it to the world? Anyway Moving On… 🙂
Korean Station
Tacos Station <3
Now The Good:
Limited food but most of them are good.
The menu was complete: Soup, Salad, Breads, Appetizers, Seafood, Entrees, Desserts.
The place is conveniently located especially for Pasay and Paranaque residents
Some Rooms for Improvement that I think might help them become a more competitive buffet:
Better Ambiance, Some music can help. Throw in some renovations as well, the place lacks sophistication and elegance.
Better Service, some staff were not that friendly. Even the manager, when I approached him to ask for permission. "Sir, I am a paying customer, a bit of courtesy is appreciated"
Better Price Point. I bought our buffet at 50% (Group Buying Site) for P878.00 so that means that the Original price is around P1,756 which is a bit expensive considering that the buffet is not that extensive. You can get a much better buffet for that amount.
Improve your service and let the people know that you have improved. You have a lot of potential, you just have to get better, be open to criticisms and take it constructively for further improvement.
Riviera Café has a lot of potential. I hope next time everything will be much better. I am really looking forward to that. 🙂
Hanggang Sa Muli! Paalam!
_________________________________
By: DENCIO

Originally Posted On: www.DENCIO.com
Do You Like This Post?
Subscribe to the RSS Feed
Follow me on Twitter
Like us on Facebook
Email Me