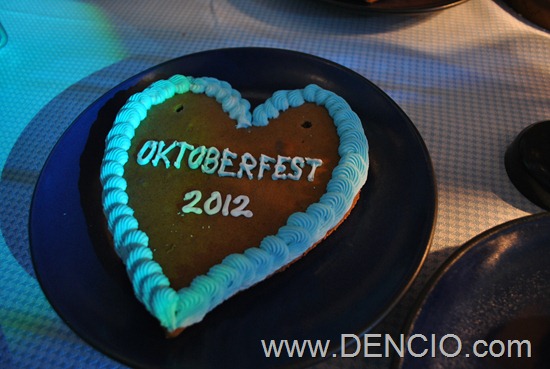 In 2 weeks time the entire beer drinking community country will be celebrating the much awaited annual Oktoberfest Celebration. There will be parties and overflowing booze in every corner. But if you are looking for the hippest and the best Oktoberfest celebration you'll ever experience, then you are in for a treat! Sofitel Manila in Cooperation with the German Club Manila will once again delight you with their Bavarian Inspired Oktoberfest Celebration on October 19 and 20 2012! Expect overflowing booze – both local and international brands –awesome Bavarian dishes, the hippest crowd all in one amazing Oktoberfest party!
Here's the Press Release:
Once again it's a time for cheers and free flowing beers as Sofitel Philippine Plaza in cooperation with The German Club Manila present the 74th Oktoberfest Manila. This year 's event promises an even more exciting celebration of traditions, entertainment, and authentic Bavarian food and drinks evocative of the authentic Oktoberfest fare. Oktoberfest Manila 2012 shall take place at the newly -refurbished Harbor Garden Tent on October 19 to 20, 2012.

In celebration of the 179th year of the Oktoberfest, the weekend's program promises to be Manila's most memorable yet. The Harbor Garden Tent will be decorated in the Bavarian colors, white and blue. Authentic Oktoberfest tables and benches guarantee a festive beer garden fair setting. Ladies in dirndls and gents in lederhosen strutting around the tent-turned-Oktoberfest village add to the heart-pumping Munich Oktoberfest vibe.

Bavarian delights prepared by Sofitel executive chef Eric Costille will make up the colorful culinary spread, such as fresh roasted pork knuckles, roasted calf, laugen rolls, grilled sausages and mouth-watering pastries, with refreshing, ice cold beer flowing freely for all to enjoy. The Bavarian Sound Express, well-known from previous Oktoberfests in Manila, will keep guests singing and dancing all night long.

Staying the night at Sofitel Philippine Plaza on these dates is highly recommended as special Oktoberfest rates are on offer. Guests can rest easy after the Oktoberfest festivities, after just a short elevator ride away.

Oktoberfest Manila 2012 tickets, merchandise and goodies will be on sale at Sofitel Philippine Plaza's grand lobby.
Now Open that Keg and let the booze flow! Prost!
Here are some of the Bavarian Dishes that will be served during the Oktoberfest Celebration.
Those sausages don't not only look good but they taste amazing as well! I'm sure you'll find a perfect match for your favorite beer!
For ticket sales and ticket prices, please call the German Club Manila at (632) 817.3552 and 818.3552 or email at germanclub@germanclub.ph. For room reservations, please call (632) 551.5555 exts. 1991 to 1994 or email at H6308@sofitel.com. For Spiral reservations, please call (632) 832.6988 or email at fbreservations@sofitelmanila.com.
Hanggang Sa Muli! Paalam!
_________________________________
By: DENCIO

Originally Posted On: www.DENCIO.com
Do You Like This Post?
Subscribe to the RSS Feed
Follow me on Twitter
Like us on Facebook
Email Me