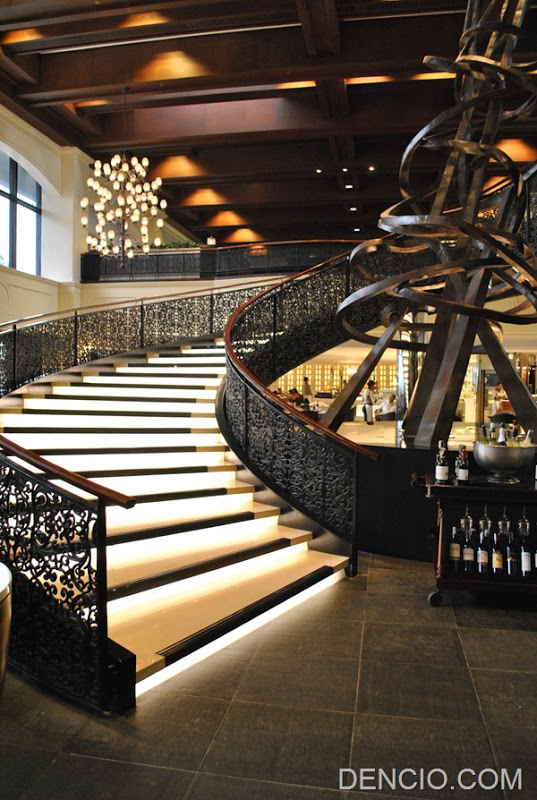 (New) Spiral Buffet Manila
Sofitel Philippine Plaza Manila, CCP Complex Roxas Boulevard Pasay City
Contact Number: (02) 551 5555
Website: http://spiralmanila.com/
Facebook: https://www.facebook.com/SpiralManila
Twitter: https://twitter.com/SpiralManila
Spiral Buffet Schedule:
Breakfast: (Daily) 6:30 am – 10: 30 am
Lunch: (Mon- Sat) 12 noon – 2:30 pm
Brunch: (Sun) 12 noon – 3:00 pm
Dinner: (Daily) 6:30 pm – 11:00 pm
Supper at La Veranda: 11: 00 pm – 1:00 am
Bonjour Mabuhay!
After all what happened during the previous storm and despite being the most expensive buffet in Manila, Spiral Buffet at Sofitel Philippine Plaza Manila remains the best and the most sought after hotel buffet in the Philippines. Well, I don't see any reason why not… It offers luxury in every level. The Food is still exceptionally amazing, top notch service and hospitality, ultra modern equipment, and a truly exquisite dining experience.
After more than a year of renovation, the New Spiral Manila emerges stronger than ever and immediately took the crown of being the best, most luxurious and the biggest buffet in the Philippines and probably in Asia. Let me list down some of the major improvements and changes that the New Spiral offers.
An 11-Million Dollar Upgrade! All Modern Interiors and Facilities.
A world class wine cellar
Twenty-one (21) dining ateliers
An Impressive Cheese Room
A dedicated Chocolate Room
6 Private Function Rooms for your meetings and celebrations
Total of 452 seating capacity
An authentic tandoori oven for a better Indian Cuisine
A Bonnet French stove – a customized oven used by Michelin Star Chefs around the world and weighing one ton of steel.
The new design of Spiral was conceived by Spin Design Studio of Japan. The same team was also responsible for the original Spiral and other world-class projects such as the new restaurants of Ritz Carlton Hong Kong.
While most of us call it Food Stations… Spiral Calls it Dining Ateliers!
1. Salad and Appetizer
Fresh locally grown produce and organic colorful vegetables freshly picked from our garden will be tossed for you by our chefs with your choice of homemade salad dressings.
2. L'Écailler
Jewels from the sea from oysters, salmon, prawns, crabs and other seafood sourced from all over the world prepared with fresh organic vegetables and your choice of sauces from white wine, vinegar or zesty lemons. Indeed, the world is your oyster, this time, its freshly shucked oyster by the l'écalier.
3. Sushi Sashimi
A raw bar with all the fresh sushi and sashimi prepared for you by our sushi chefs. Japanese rituals abound at this cold stone counter. Temakis and nigiri are in abundance.
4. L'Epicerie
Meat and Cheese lovers will be on seventh heaven in this room where one could feast from a wide variety of premium aged hams, charcuterie, smoked fish, artisanal cheese from France, Spain, Italy, Germany and Switzerland creamery products. Pair them with olives, herbs, sun dried tomatoes, olive oil, sauces and condiments for a real gourmet experience.
5. Hot Japanese
From a delectable choice of fresh natural ingredients, Japanese cuisine never ceases to amaze one with its simplicity and artistry. Enjoy a selection of traditional grilled sea food, meat and vegetables cooked at the robata or at the teppanyaki.
6. French Stove
With every dish meticulously prepared, authentic French dishes are a labor of love. Savour home-made seared foie gras, luscious roasted meat and carving, seafood, grilled food and regional French cuisines that will surely impress every gourmand.
7. Rotisserie
The aroma of roasted meats triggers the sense of taste and brings back the time honored traditions since 1400 in Paris. Slow cooked meats give you a chance to try a selection of home – cooked lamb, chicken and pork with its rich natural juices blended with various marinades and herbs from the secret recipes of our chefs.
8. Wood fired oven
Pizza with pizzazz – just as the Italian "Mama" makes it at the traditional wood-fired oven with fresh ingredients.
9. Churrasco
Savor a variety of mouthwatering juicy skewered steaks and sea food with matching hot sauces and your choice of herbs straight from the churrasco which originates from Brazil. Ask the chefs that move around to grill what their fine meats and seafood are on offer that day.
10. North Indian
Inspired by maharajah of Northern India, your taste buds are in for a fiery and spicy treat. Discover the pomp and pageantry of Indian cuisine – North (naan and tandoori) and South Indian cuisine (dosa and chutneys) at its best. Lavish and homemade dishes include tandoori-spiced meats with Indian and Asian breads and sauces. Vegetarians will surely have a feast with a selection of dal, paneers and chutney.
11. Asian Noodles
Hand pulled Asian noodles prepared many hours before; with a variety of broth, sauces and an extensive range of condiments and soup stocks to choose from. If that is not enough, ask the chef to make your own noodle recipe. Try the authentic steamed and fried dimsum from different parts of China.
12. Peking Duck Oven
Roasted to perfection, enjoy peking duck, one of the Chinese atelier's star dishes which goes back to the tradition of the Emperors Palace in Beijing during the Imperial times. Also on offer are Chinese barbecue.
13. Chinese Wok
The sight of flames, the sight and sound of the Chinese master chef cooking stimulates one's appetite. Let him entice you to try his signature dishes reflecting all parts of China whether Cantonese, Hunan, Sichuan and regional. Also choose from a selection of Wok cooked Chinese dishes.
14. Steam Baskets
Savor endless authentic steam and fried dimsum from siao long pao, siomai, dumpling and wonton from all over China.
15. Filipino
Warm your palates with a delectable array of traditional Filipino dishes like beef tapa and adobo with its unique sauces from coconut base and dashed with spices. These can be paired with your all-time favourites such as the mouth-watering kare kare with its peanut based sauce and the amazing crispy pata among the many which will want you to crave for more. Surely just take the culinary adventure and try the Filipino dishes with homemade and heirloom recipes from our notable Spiral Chefs.
16. Thai
Fiery flavors of Thai cuisine beckon you with its fabled soups and curries. In contrast to the chili dishes Thailand is known for, Thai food infuses a lot of zesty lime, kaffir and basil to its rich flavors.
17. Korean
Sizzling plates and freshly tossed vegetables await Korean food aficionados. Korean dishes like dakdoritang (spicy chicken stew) and changjorim (soy braised bean), kimchi, bulgogi , beef short rib barbeque, chili chicken barbeque, pork rib barbeque, squid chili barbeque, bibimbab , five kInds of kimchi and five kinds of namal will be on offer for you.
18. La Boulangerie
Follow the smell of warm and freshly baked baguettes, pain au chocolat, croissants and you end up at the La Boulangerie right at Spiral where you can choose from a selection of freshly baked breads – all hand rolled. Healthy choices include rye and gluten free breads.
19. La Patisserie
Sweet endings are the perfect way to end a memorable dining experience – succumb to the temptation of freshly baked French pastries of all shapes, fillings, textures and sizes.
20. Chocolaterie
Chocolates are the stuff sweet dreams are made of. Indulge in artisanal chocolates, truffles and pralines intricately designed whether dark, white or milk chocolate from the best cocoa in the world and all freshly made for you by our chocolatiers. One bite of these devilishly good chocolates will surely send you to seventh heaven with its intense flavors and colors.
21. Creamery
Imagine sweet temptations – all types of ice cream at the tip of your tongue from your favourite fruity and citrus flavors along with dark chocolates and toppings.
Enough Reading!! Now Here's a feast for your eyes and tummy! Remember my previous post about Spiral, which was probably the most photo extensive post about the buffet ever? Well, if you loved that, you wont be disappointed! 🙂 Ready? Set… Game!
That Was Amazing!! These dishes were served during a Weekday Lunch. Expect a more extensive spread during Weekends and Brunch! I must tell you, you have to prepare your tummy before diving in to Spiral's Buffet Spread!!
Technically, no one is allowed to take this much photos of the food especially in detail so a big THANK YOU to my 2 Angels who assisted me in taking photos. If it wasn't for them I would be probably be dragged away by the security! You know who you are!! 🙂
If you want to increase the level of luxury, If you are dining in a big groups or if you just want to dine privately with your officemates, friends or family, you may reserve one of Spiral Manila's Private function rooms. You must spend a minimum amount to be able to use one of the rooms.
With all that I am sure you are now asking, how much should I pay for all these? Well, as of April 2013. Spiral Buffet Manila's Rates and Prices are as follows:
| | | | | | |
| --- | --- | --- | --- | --- | --- |
| Meal | Day | Buffet Price | Net Price | Kids Price | Kids Net |
| Breakfast | Mon-Fri | 1,400+++ | 1,719.55 | 800 | 982.60 |
| | Sat-Sun | 1,600+++ | 1,965.20 | 900 | 1,105.43 |
| Lunch | Mon-Sat | 1,980+++ | 2,431.94 | 1,100 | 1,351.08 |
| Brunch | Sunday | 2,950+++ | 3,623.34 | 1,500 | 1,842.38 |
| Dinner | Sun-Thu | 2,280+++ | 2,800.41 | 1,300 | 1,596.73 |
| | Fri-Sat | 2,480+++ | 3,046.06 | 1,300 | 1,596.73 |
These prices are quoted in Philippine Peso and are exclusive of drinks. They currently don't have any ongoing promos, discounts or tie-ups with credit cards. Yes, I know! It is expensive but of course you will definitely get what you paid for. These prices are updated as of the time of writing, please contact Spiral Manila for the updated buffet rates and prices.
I hope you find this post Informative! I am sorry for hogging your bandwidth once again! I sure it was all worth it! 🙂
Hanggang sa muli, Paalam!
_________________________________
By: DENCIO
Originally Posted On: DENCIO.COM
Do You Like This Post?
Subscribe to the RSS Feed
Follow me on Twitter
Like us on Facebook
Email Me
Read More Posts HERE