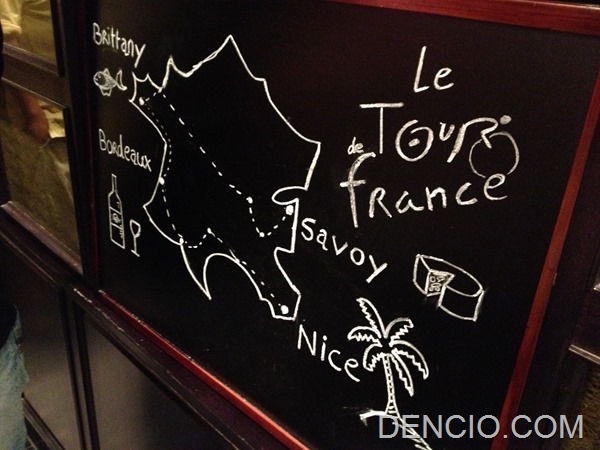 (New) Spiral Buffet Manila
Sofitel Philippine Plaza Manila, CCP Complex Roxas Boulevard Pasay City
Contact Number: (02) 551 5555
Website: http://spiralmanila.com/
Facebook: https://www.facebook.com/SpiralManila
Twitter: https://twitter.com/SpiralManila
Spiral Buffet Schedule:
Breakfast: (Daily) 6:30 am – 10: 30 am
Lunch: (Mon- Sat) 12 noon – 2:30 pm
Brunch: (Sun) 12 noon – 3:00 pm
Dinner: (Daily) 6:30 pm – 11:00 pm
Supper at La Veranda: 11: 00 pm – 1:00 am
Bonjour!
Spiral just gets better and better! And if you think the place and the food is not French Enough for your taste, then you'll be ecstatic to know that they will be celebrating French Month this whole month of July. Enjoy a wide array of authentic French Cuisine from different provinces of France, Listen to timeless French Music, Celebrate one of France's Legendary  Icon Bridgitte Bardot and savor the goodness of Imported Premium French Wines all month long!
Spiral pays tribute to the most anticipated and iconic cycling event race in the world, Tour de France. Now celebrating its 100th glorious year, experience the thrill and excitement of the race through a gastronomic ride of French culinary at Spiral.
There will be something new every week of July. You will be able to enjoy the cuisines of France's most iconic provinces prepared in the most authentic way possible by Sofitel Philippine Plaza's Executive Chef, Eric Costille.
Nice: July 1-7
On its first stop to its culinary adventure, Spiral takes you to the still blue waters, lovely seaside promenades and picturesque views of Nice. Being the second most visited French city after Paris, Nice doesn't only offer its breath taking view of the Mediterranean Sea but also its rich cuisine, a mixture of Italian and French cooking. Travel through your taste buds and enjoy an exclusive menu at Spiral inspired by the culinary masterpieces of Nice.
Explore Nice' crystal blue waters and discover its hidden jewels through Spiral's Cod Fish Aioli, a tender seafood dish perfectly paired with rock salt, garlic and lemon juice. Explore its typical Mediterranean landscape and feel the serene wind while enjoying the broadleaf evergreen scenes through its classic Nicoise salad, stuffed vegetable – Nice' version of oven baked stuffed bell peppers with ground beef, pistou vegetable soup, a traditional soup inspired by Italy's pesto and vegetable "tian" perfectly paired with meat or seafood. Have a taste Nice' authentic favorites from delectable Nice style tripe stew, its chick pea socca and onion pissaladiere. Sweet endings are truly deserved with this specially made Tropezienne tart made from brioche and filled with buttercream and pastry cream.
Périgord: July 8-14
An elaborate and exciting heritage culinary tour is waiting as Spiral presents its collection of lavish dishes inspired by the French region of Périgord. Travel back in time and experience French luxury at its finest through a feast of Spiral's exquisite Périgord inspired dishes.
Choose from the classic French favorite duck confit cassoulet, salardais style potato with truffle and sautéed porcini with truffle. Enjoy Spiral's version of the city's signature dishes like the Périgord salad, a very popular duck dish that originated from Périgord, pan-fried beef bordelaise and the traditional French garbure soup perfectly paired with ham and stale bread. Desserts are best experienced at Spiral with its delightful collection of Périgord inspired sweets that will definitely satisfy everyone's craving from baked egg Perigourdine up to the hazelnut and almonds filled Dacquoise cake, a tour of Périgord's rich culture and heritage is truly completed at Spiral.
Brittany: July 15-21
Spend an intimate dining experience at Spiral as it showcases the best culinary marvels from the French region of Brittany. Enjoy this one of a kind Spiral treat and experience Brittany's famed countryside views through the exquisite menu prepared by Spiral's stellar cast of master chefs.
An exciting array of culinary masterpieces from Brittany such as the iconic savory buckwheat Crepe and lobster bisque soup will really let you experience the region's grandness and beauty, taking you to the region's magnificently designed chateaus and ancient castles. Surrounded by the sea, Brittany offers a wide range of fresh seafood and fish, especially mussels and oysters Explore the natural wonders of the sea as Spiral presents Brittany's famed seafood dishes such as mussel mariniere perfectly paired with the region's special cider, Seafood gratin with Muscadet wine, Pan-fried scallop with leek and baked whole fish sea salt crust. Travel through the countryside and experience the splendor of French living with the following authentic French culinary masterpieces of the region. Try its healthy artichoke and green bean salad which is one of the region's famous dish. Save the best for last as Spiral also presents the best desserts of the region. Enjoy the mouth watering breton butter cake; this delicious treat is from the town of Douarnenez located in the west of France in the Brittany region. This delectable treat is best served with a warm glass of cider.
Savoy: July 22-28
Being the last stop of the Spiral's culinary adventure for the tour de France, prepare for an artistic and exclusive feast of gastronomic masterpieces featuring the wonders of the French region of Savoy.
Experience France like never before with Savoy's breathtaking views of the French mountains and its cuisine offering that will definitely delight everyone. Enjoy a selection of authentic French dishes specially made by the Spiral Master Chefs such as quiche lorraine and savoy's classic favorite potato reblochon cheese gratin. Feel the region's serenity while trying the healthy red cabbage and apple salad, Snails red wine sauce and the classic peasant lentil soup. Travel around Savoy and explore its alpine landscape through its exquisite cuisine. Enjoy the region's authentic favorites such as the its signature savoyard pork and vegetable stew, the classic mushroom cream chicken fricassee that makes a mouth tantalizing delight and the garden vegetable fricassee. Savoy is also a home to France's most delectable desserts such as the Spiral's version of the favorite cherry clafoutis tart.
The food was amazing as expected and the wine selection was exceptional! Of course these are just additions to the mainstay dishes of Spiral's infamous buffet. All your other favorites are still there such as these amazing pistachio-white chocolate fountain! To check my feature of Spiral's Buffet, you may click HERE.
Here's the list of the Supplemental Menu during the celebration of French Month and Tour de France at Spiral Manila.
Nice: July 1-7
Nicoise salad
Onion pissaladiere
Chick pea socca
Stuffed vegetable
Pistou vegetable soup
Vegetable "Tian"
Cod fish aioli
Nice style tripe stew
Tropezienne tart
Périgord: July 8-14
Perigord salad
Baked egg perigourdine
Garbure soup
Duck confit cassoulet
Pan-fried duck magret with apples
Salardais style potato with truffle
Sautéed porcini with truffle
Pan-fried beef Bordelaise
Dacquoise cake
Brittany: July 15-21
Artichoke and green bean salad
Savory buckwheat crepe
Pan-fried scallop with leek
Lobster bisque soup
Mussel mariniere
Baked whole fish sea salt crust
Seafood gratin with Muscadet wine
Pan-fried salmon, spinach beurre blanc
Breton butter cake
Savoy: July 22-28
Red cabbage and apple salad
Peasant lentil soup
Snails red wine sauce
Quiche Lorraine
Savoyard pork and vegetable stew
Mushroom cream chicken fricassee
Potato reblochon cheese gratin
Garden vegetable fricassee
Cherry clafoutis tart
The wine selection also changes every week. And during the celebration, you can also buy French Stuff to Go!
For reservations and inquiries, please call (632) 832.6988 and (632) 551.5555 ext. 6988, or email fbreservations@sofitelmanila.com, facebook : spiral manila and www.spiralmanila.com.
Hanggang sa muli, Paalam!
_________________________________
By: DENCIO
Originally Posted On: DENCIO.COM
Do You Like This Post?
Subscribe to the RSS Feed
Follow me on Twitter
Like us on Facebook
Email Me
Read More Posts HERE