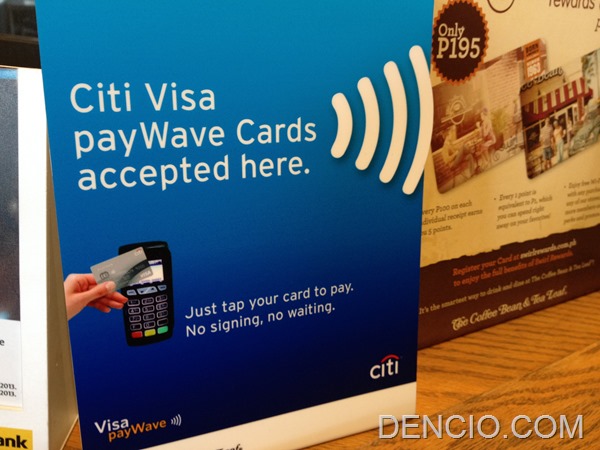 I just love cashless and electronic payments, it is so safe, convenient and cool. I have been experiencing this tap and pay technology for a while now particularly in the developed countries and I must say, it was love at first tap. I can still remember the first time I experienced this tap and pay technology, I was in Singapore using their EZ-Link Card. It was super convenient since your can use it practically everywhere. From then on, I was hoping and wishing that someday we get to experience the same technology and convenience in our country. And now, the time has come! It is finally happening in the Philippines – although still not widely available – but I really do think we are off to a promising start.
Citibank Philippines now offers the Visa payWave to its cardholders! A first in the Philippines!
(List of Citibank Merchants that accepts payWave as of October 2013)
If I remember correctly, a few years back, MasterCard also introduced their tap and go technology called PayPass via BDO but for some reason, it did not materialize. Probably because the market was not yet ready or there was a limited merchant and client acceptance. But now, I am certain that this technology will be the next big thing in the next few months and years! Thanks to Citibank for offering the first batch of payWave enabled cards in the country and partnering with local merchants to make the card more usable. I won't elaborate on the technical details but if you are a current Citibank Visa Cardholder or want to apply for one with payWave, you may visit Citibank's Website.
Excited to try, I immediately called-up Citibank as soon as I get the notification via email that they are now offering Visa's tap and go technology payWave in Manila. Luckily, my Premier Miles Card was qualified for a free upgrade. After a few days, voila! I got my Citibank Visa with payWave. You will know that your card has payWave if you see the rotated wifi logo next to the security chip.
A few days after, I was walking along Ayala Avenue on my way to the office and I saw a Coffee Bean and Tea Leaf branch with a payWave poster on their window. This is it! Time to grab my latte and put this payWave to the test. It was thrilling experience I must say… for both me and the cashier. Apparently, it was also her first time… 🙂
So basically you order your favorite drink, they punch it as usual (Citibank PayWave users get a free upsize on their purchase).
Then they input the amount on their wireless PayWave enabled terminal
They will then hand their new payWave enabled terminal out to you (although it looks the same as the others).
You will then place your card on top of it to read your card (basically anywhere in the machine, even if your card is in your wallet or card holder – I tried it it worked)
Wait for a second or two, a beep will sound then the same processing and approving process takes place, then a receipt showing "no signature required will be issued. The tapping and reading of your card is fast but the processing time of the machine for approval is basically the same.
The transaction was smooth and perfect and super cool until…. they ask for your card! Ideally (and the point of it all) is you don't have to take out your card and hand it to the cashier but apparently for CBTL, they will still ask for your card because they need to swipe it in their terminal for their receipt and worse, you need to sign their receipt! No need to sign the charge slip but you still need to sign the receipt. Weird right?
I guess they are still in the process of fully integrating the payWave system into their register and payment system. But nevertheless, it was so much fun, so cool and a true #FeelingFirstWorld Moment! Tried it in 2 CBTL branches and the process were all the same. Hopefully the process will improve in soon.
As of the time of writing here's the list of Citibank Merchants with PayWave in the Philippines:
Mercury Drug
The Coffee Bean and Tea Leaf
Robinsons Supermarket
Lucky Chinatown Cinemas
Eastwood Cinemas
Soon:
New Port Cinemas
McDonalds
Also, As of October 2013 here's the List of Coffee Bean Branches which accepts Citi PayWave:
Quezon City:
Eastwood Mall
Eastwood Citywalk
Tomas Morato
Gateway Mall
Trinoma
Technohub
Galleria
Centris Walk
San Juan:
Mandaluyong:
Shangri-la Plaza
Megamall
Pasig:
Makati:
Greenbelt 3
Salcedo Village
Convergys One
Rockwell
Greenbelt 5
Ayala Triangle Gardens
Glorietta 2 (New Wing)
Taguig:
Burgos Circle
Venice Piazza
Bonifacio High Street
Manila:
University Mall
One Archers Place
Robinsons Place Ermita
Pasay:
Mall of Asia
Two E-Com
Newport City
Muntinlupa:
Alabang Town Center
Asian Hospital and Medical Center
Cool right? Looks like I will be skipping Starbucks for a while for CBTL, aside from the Coolness Factor, I could use a free upgrade as well. Also, can't wait for McDonalds!! I hope other banks also offers this technology soon. But for some banks, it may actually take a while since they don't even have the security chip technology yet. What more the payWave right? Well, think positive! At least Citibank is being aggressive about it. I'm sure other banks will follow soon. So if you want to experience the future in contactless payment now, Call Citibank and get your payWave Visa Card now! 🙂
http://www.citibank.com.ph/gcb/visapaywave/
Hanggang sa muli! Paalam!
_________________________________
By: DENCIO
Originally Posted On: DENCIO.COM
Do You Like This Post?
Subscribe to the RSS Feed
Follow me on Twitter
Like us on Facebook
Email Me
Read More Posts HERE