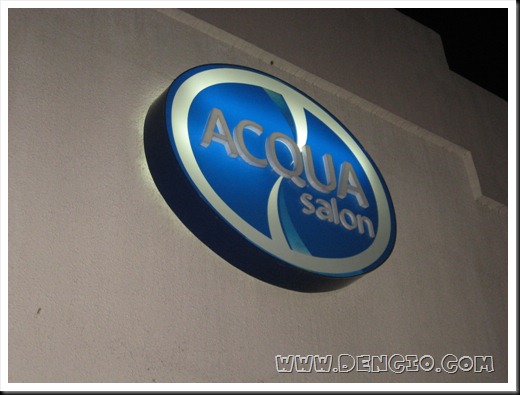 Way back in 2006, I was looking for a Good Salon within the Neighborhood. Before, I used to go to Toni and Guy in 6750 to have a haircut. It was a bit of a hassle, and not to mention so expensive! I have also tried David's Salon, Ricky Reyes, Etc. Until one of my friend told me that he read an article in a magazine that there was this new salon that opened in Westgate Alabang, and there was a sought after stylist there – MJ. So I called the salon and scheduled an appointment, with MJ of course. And the rest was History, I have been a loyal client ever since… I was also able to brought in some friends which also became regular clients.
Acqua Salon Is located in Westgate Alabang. So far, it is the only salon in Westgate. They are located behind Alabang Home Depot, beside Tips and Toes and Kanin Club. It is also conveniently located near Gymboree and Fitness First.
Acqua Salon resides in a Cute and Sophisticated 2-Storey establishment. Upon entry, you will be greeted by the friendly people at the reception area.
One of the main difference of Acqua Salon from the competitors is their shampoo area. Normally (on other salons) you will be sitting on a chair with your head tilted back on the sink attached to the chair when you get a shampoo or a rinse – Which is very painful on the neck area especially if you will be shampooed or rinsed for quite some time. In Acqua, it is different, you will be shampooed lying down on this comfortable bed. You can really enjoy the shampooing better. No neck pains! even if you get rinsed for an Hour!
When you are lying down, you can see this glowing ceiling complementing the dim lights, the soothing music, and the amazing scalp massage.
Shampoo time in Acqua is a very pleasant experience, not only you are in a comfortable position, but the person shampooing your hair does a good job in Massaging your scalp! It is a very relaxing experience.. The Shampooing normally takes around 10 minutes.
TIP: If it is your first time in Acqua Salon, try asking for Ivan or Allan to assist your stylist. Their shampooing and scalp massage is excellent!
On the second floor, they have this lighted mirrors – Parang pang artista :p
The salon carries and sells different hair product brands like TIGI and Schwarzkopf among others.
Since the place is quietly located inside Westgate in Alabang, the place is not that crowded. Together with the Soothing Music and a great ambiance, your stay will be as relaxing as it can be.
Most of Acqua's clients come from the nearby villages. A lot of foreigners also visit for a Cut or Treatment.
While waiting, they even offer you Iced Tea, Coffee, or Water – For Free! :p
And if they let you wait longer than the usual, you can even get a free back massage from one of their Junior Stylists 🙂
You have seen the place, now meet their stylists. They have 3 senior stylists. The one who cuts my hair is MJ Cabarloc. You can read their profiles below.
MJ has been Cutting my hair for a few years now, and she has been very consistent. Under her belt was several trainings abroad and a lot of Clamoring Clients! She has been featured in several news papers and Magazines and a lot of great thing were said about her.
My hair is not spectacular but if it wasn't taken cared of by her, I'm sure it will be worse :p
I'm sure if she can tame my hair, she can probably do better with yours! :p
At first it may seem that you have to rob a bank to pay for their services. But Surprisingly, their services are very affordable. For example, the haircut for men is P250 and for women, its P280. That is even cheaper than David's. Their other services too are very reasonably priced. They Do Make-Up, Hair Treatments, Massages, etc.
Acqua Salon is Located in Westgate Alabang.
You can set an Appointment by calling their contact number at 02-771.1340.
They are open from 9:30AM to 8PM Daily.
You May look for MJ when you set for an Appointment. Just tell her that you were referred by Dennis and that you have read it in my site/blog. 🙂
Also, MJ is Off on Wednesdays 🙂
TIP: Tipping is not required but is a bit Customary. 🙂
Thanks for Reading! 😛
_________________________________
By: Dennis Christian Angulo
Originally Posted On: www.DENCIO.com