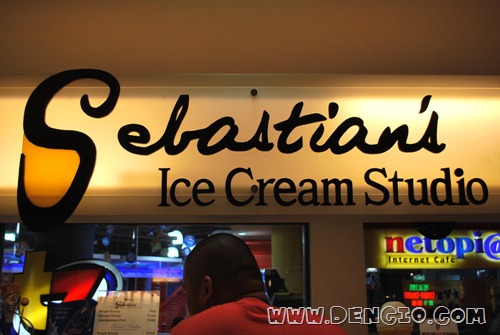 Japanese restaurants were not known for their desserts, so we have to find desserts somewhere else. But thankfully, we won't have to go that far! :p
Few years back, Yeye told me that there was this Super Delicious Ice Cream Stand In ATC. It was there all along but I hardly notice it, until recently. It was Sebastian's Ice Cream Studio. Their Stand is located along Cinema Lane of Alabang town center, in front of Auntie Anne's Pretzels and TimeZone and Netopia. They serve Extremely Creamy and Super Delicious Ice Creams! Flavors that will Excite your taste buds the moment you hear or read their names, for example – HAZEL NUT TRUFFLE (Rich Dark Chocolate Ice Cream Garnished with Hazel Nut Chunks!) Now What do you think?!
I have tried almost all of their Flavors, My previous favorite was the Chocoholics Anonymous (Rich Chocolate Ice Cream Loaded with Dark Chocolate Chunks and Thick Fudge Swirl for SERIOUS Chocolate Lovers) – Until I Tried this Hazel Nut thingy :p When they Say Nutella chunks, they mean CHUNKS! :p
WARNING: These Ice Creams are Wickedly Good and SWEET! You might want to SHARE! :p
For an Ice Cream so good, you might expect to pay a lot.. but surprisingly, the price is so affordable! Not to mention, the serving is very hefty and good enough to share! They even offer a FREE TASTE!
Now, obviously Sebastian's Does not have a dining area, so is you want to sit down and enjoy your Ice Cream, you may want to use the nearby Auntie Anne's Pretzels' Tables (as a courtesy, you may want to buy a pretzel in return). WHICH, is so good to eat together with your Ice Cream! :p Dipping Your Pretzel (Preferably Plain) on Sebastian's Ice Cream is a Must try!! It is so GOOD! :p My mouth is watering! My two favorite snacks in ATC in one place… They very much Complement each other! :p
Sebastian and Auntie Anne should Be married! they would make a wonderful couple!
I know that Auntie Anne's are everywhere, but I am not sure about Sebastian's… No idea on their other branches. If you know one, please post a comment :p Thanks! 🙂
Thanks for reading! Watch out for More! :p
_________________________________
By: Dennis Christian Angulo
Originally Posted On: www.DENCIO.com