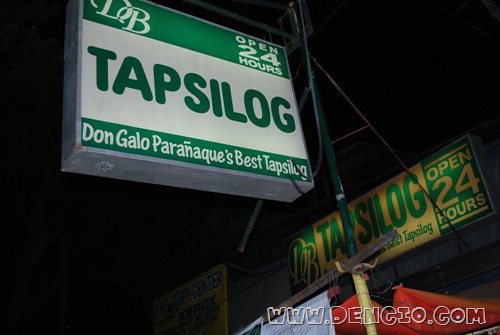 The quest for the ultimate Tapsilog continues!
This time… DB tapsilog… this place has a lot of branches… they are all over the place… I am sure you have heard or seen one! This one is located at Damarinas Cavite, in front of La Salle Dasma… 12MN and still open… hehe 24/7 nga eh! :p The Tapa is Not as good as Maty's (bias ako) but is a great alternative to eating Kabayo :p (So far I haven't heard of any information if their meat is the same as Maty's) What a perfect place to eat before and after playing counter strike! :p
The Tapsilog is also great but it lacks some distinct flavor (bias nga ko diba?!) but it is still way better as compared to other tapsilogs out there… They have 70grams and 90grams version of this tapsilog… this one was the 90grams version. The rice was not fried on this one.. parang plain rice na binawangan lang! hahaha! :p Naubusan siguro ng Bahaw :p
Aside from the Tapsilog, they also serve Sisig… for just P59.. A great deal! (Although I only eat sisig at Dencio's and Countryside)
The menu…

Another must try Tapsilogan… More Branches = More chances of eating!
Next Target, SEX (BF Sinangag Express)
Thanks for Reading! :p
_________________________________
By: Dennis Christian Angulo
Originally Posted On: www.DENCIO.com
Email Me | Post a Comment | Subscribe to My BLOG (RSS)