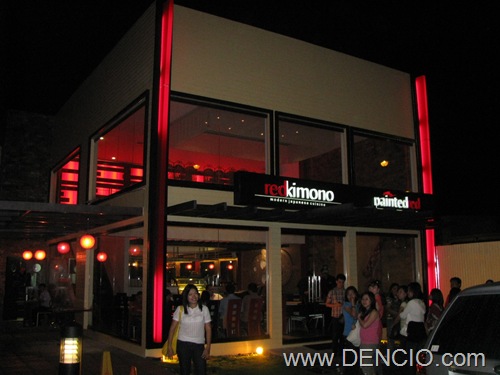 While looking for another place in Alabang, we came across Red Kimono and Painted Red in Westgate. These two restaurants are conveniently located in a single establishment. They share the same dining area but have two separate menus.
The Theme of the place was, as expected, a mix of Japanese and Western Designs. The place was predominantly black and red and the Interiors were modern and sophisticated. The waiters were very friendly and attentive, so attentive that they walk over to your table with just an eye contact. :p
They also have this big Red Kimono Painting (not sure) on the wall.
They have a loft dining area too…
Now The Food…
I started my meal with a delicious warm Rice Tea.
Buffalo Wings = OK…
I did not like this Gyudon… The rice was not hot when it was served, that makes the raw egg taste like raw egg… well, you know what I mean…. :p
Pork Ribs = Liempo = OK.
Moving Forward, The Desserts!
Fried Breaded Banana (Yung Lakatan) Served with Vanilla Ice Cream and Chocolate sauce… Too bad the banana was overripe.
Wait! Baket May Parsley? Pinaparsleyhan ba ang Desserts?! Hehehe…
I do not have much to say about their food. I hate to say this but the food that we tried here was So-So… It wasn't that bad, it's just it was not good (Hahahaha! Labo?!) – Edible. I was not able to enjoy my stay because of the food. The place was good as well as the service but the food… It really needs improvement. To think that their price is not that affordable, you could get a better tasting Japanese food for a fraction of their price elsewhere. Desserts?! So-So… sabi nga nung isa kong kasama, parang bakery lang… Hehehe! :p
To be fair, maybe they have better dishes on their menu, we just wasn't able to try them.
I was not satisfied at all with the food… And to think you have to pay this much? Hehehe! :p
If you like Japanese Food… You may want to check out my post on TEMPURA JAPANESE GRILL or SPIRAL SOFITEL BUFFET where they serve the most amazing Sukiyaki Soup!
Thanks for Reading!
Until Next Time!
_________________________________
By: Dennis Christian Angulo
Originally Posted On: www.DENCIO.com