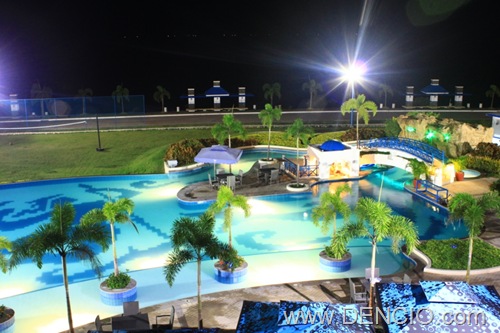 Third Part of My Thunderbird Poro Point Santorini Lounge and Pool Bar
Read Parts one and two of my posts here..
The sun has set in Poro Point. If the place was beautiful during the day, it is mesmerizing during the night. Accent lights around the hotel highlights some of the most beautiful spots around the resort.
After dinner and you are looking for a place to hang out, unwind, and have fun, you can either go to the casino complex or stay at the hotel and enjoy a drink or two at their Santorini Lounge. You may enjoy the drinks at the bar itself or you can have it served by the pool bar. But Remember that the pool area closes at 10PM so if you are looking forward to a long drinking session, you have to continue it on the Lounge.
Santorini Lounge offers extensive drink choices. Cocktails, Beers, Juices, and Wines. The place is very quiet and relaxing. A great place to relax and unwind after a day in the golf course or the casino. Aside from the drinks, they also serve light snacks all day – all night (until closing).
I tried their best seller, a drink which is inspired by the resort – the Thunderbird Clouds. you'll see Why.. (A great tasting drink I must say… And no, it is not a bubble gum flavored drink! :p)
Thunder Bird Clouds Php 180++ (Floating Whipped Creams)
Good Times! Good Times! 🙂
Thunderbird Poro Point Santorini lounge and Pool Bar Menu/Bar list
Next Day… Breakfast at Olives!
Hanggang Sa Muli! Paalam! 🙂
_________________________________
By: DENCIO

Originally Posted On: www.DENCIO.com
Do You Like This Post?
Subscribe to the RSS Feed
Follow me on Twitter
Like me on Facebook
Email Me