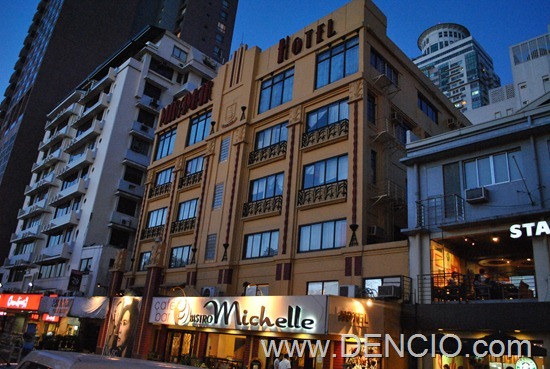 (New) Miramar Hotel Manila
Roxas Blvd cor. UN Avenue Ermita Manila. (Beside Bayview Park Hotel)
Tel: (632) 523 4484 to 86
Fax: (632) 526 1866
Mobile: (+63)915.4462115
Mail: reservations@miramarhotel.ph
OFFICIAL WEBSITE | FACEBOOK PAGE
They call it "New" but in reality it is really, really old. There are a lot of old hotels in Manila – which is really historical and charming – But being an old hotel does not mean that it has to be outdated as well. Miramar Hotel has its nice Artsy-Artsy old charm to it but they should have at least updated the facilities.
Let's define OLD shall we! According to its website:
"Built in the 1930's in the Art Deco style and sensitively refurbished in 2009, the 5-storey Miramar stands out as an architectural gem, one of very few buildings linking bustling Manila to a graceful and elegant era."
Miramar hotel has a great location. It is right at the center of Manila's Prime Tourism Area. It is basically a stone throw away from Rizal Park, Museong Pambata, US Embassy, Baywalk, and Manila Ocean Park. The exterior of the hotel is really beautiful and was artistically done. the interiors, like I said has this old artsy feel but sadly, the equipment, the beds, facilities, and even the elevator has been left that way for quite sometime. I wonder what kind of renovation they did last 2009.
Let's take a quick tour of Miramar Hotel Manila.
The Lobby. Friendly Staff and Front Desk Assistant
The Check in process was smooth. But they will ask for a Cash deposit of P1,000 (Refundable) or a Credit Card for the Incidental Expenses.
NO FREE WIFI! And look at those crazy high rates! There is a Starbucks on the next building, WiFi is cheaper there. If you are planning to use your Globe Tattoo Stick or Your Phone's Personal Hotspot, good luck in getting a decent signal from Globe inside the room.
The Carpeted Stairs Leading to the Elevator
The hallway with creaking wooden floors… Looks like a scene from a horror flick.
One thing that can tell if a hotel is updated is by its doors. Most hotels nowadays, even budget hotels, use Electronic Key Cards instead of a traditional door knob. Aside from the "house key", you will have to carry that Huge Key-Chain with you everywhere you go if you decide to leave the hotel. The positive side – you can leave the room air-conditioning on when you leave since you don't need a key card to power up your room.
The room is Big, bigger than most standard rooms nowadays but the Air conditioner is a too small for the room. It was a bit hot even if the air conditioner was cranked up to its maximum. Not to mention, it was a bit noisy. There were moments that you'll think that it will explode or something. The temperature was just right during night time but during the day, it was like hell a fan room!
The Hard bed with Analog Bedside Control Panel which doubles as an FM/AM Radio!
CRT TV!
Lots of empty spaces around the room.
This one was the weirdest and the grossest part. I called the front desk if they can provide bedroom slippers (The room was carpeted but it looks a bit dirty) they said yes and they will just send it up to my room. After a few minutes, the housekeeping guy brought me these… Used, Old and Dirty pair of slippers. It was leathery with a heavy plastic sole. I was expecting the disposable paper bedroom slippers that all most hotels have. But this one really came as a surprise. I did not use it. I am better off walking barefoot on the carpet.
The Toilet and Shower was really bordering cheap – if not cheap. Take a look for yourselves.
I got this room from Agoda. It was for a super early marathon the next day. I paid around P1,800+ Pesos which is according to the site is 50% less from the published rate. That means, the actual rate of this room is around 3,000 to 4,000 pesos which is a bit steep from the kind of service and amenities that you will be getting. For less than that amount, you can get a better room and better service… and Free WiFi at other hotels.
Like I said being an old hotel does not mean that you will be an outdated one as well. I do hope that they upgrade their facilities soon! It has a good charm to it considering that it was previously an artsy place. Miramar Hotel Needs some major overhaul.
Hanggang Sa Muli! Paalam!
_________________________________
By: DENCIO

Originally Posted On: www.DENCIO.com
Do You Like This Post?
Subscribe to the RSS Feed
Follow me on Twitter
Like us on Facebook
Email Me