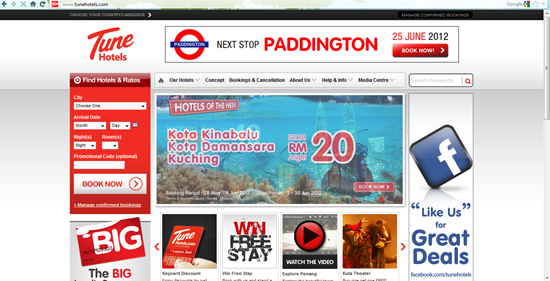 Before I show you the rooms I'd like to give you a quick guide on how to book a room online.
Like most hotels, booking a room for Tune Hotels is Done Online. Actually, They discourage (or do not accept) over the counter bookings. All bookings must be done online. And just like any other hotels, it is very straight forward apart from some unique questions that you only encounter in booking budget hotel. Read more to see what I am talking about.
Step 1 – Go to http://www.tunehotels.com/ and choose your hotel and dates on the left side portion.
Step 2 – Select Your Room type (Technically there is only one room type, you only get to choose the bed set-up. The choices are Double, Twin, or Single*). Like booking an airline ticket, the prices displayed are just the Base prices taxes and other stuff excluded.
*available in some countries
Step 3 – Choose the number of Occupants (max of 2 pax)
Step 4 – This is the fun part! Options and Choices! You only pay for what you actually need or use! Go ahead, be creative! 🙂 Everything is metered, including the Air conditioner!
Step 5 – You get the Total Price! Super Cheap!!
Step 6 – Payment. They accept Credit Cards and Surprisingly – PAYPAL! Which is very safe and preferred by notorious online shoppers!
Step 7 – Fill out the Guest Details, Conform to the Terms and Conditions, then Complete the Booking.
Step 8 – Your Payment will be processed.
Step 9 – Booking Complete, Print Stuff, Check Email
Step 10 – Manage your booking online (as needed).
When I was booking this room, I also checked Go! Hotels to see the price difference on the same date. Note that go hotels still offers un-metered air-conditioning. 🙂
Tune Hotel's Price (12H Aircon) P1,143.24
Go Hotels' Price (Unli Aircon) P1,778.56
That is approximately 56% price difference or P633.32! (Of course you have to factor in your location). But still, comparing their regular rates still shows a big difference in the price.
The same process also applies for Go Hotels booking, its just that, they wont ask how may hours of Air-conditioning you'll need! 🙂 If the trend is going in this direction, don't be surprised if the next time you book a hotel room, they will ask how many liters of water you will need to flush, shower, and brush your teeth! Hahahahaha! :p
My next post will be the Room(s). Stay Tuned!
Hanggang Sa Muli! Paalam!
_________________________________
By: DENCIO

Originally Posted On: www.DENCIO.com
Do You Like This Post?
Subscribe to the RSS Feed
Follow me on Twitter
Like us on Facebook
Email Me