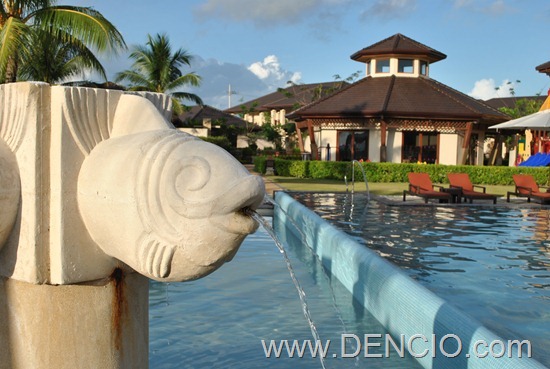 Crimson Resort and Spa Mactan
Mactan Island, Cebu Philippines
Tel Nos. 63-32 401.9999 (CEBU) and 632 728.0005 (MANILA)
Email: info.mactan@crimsonhotel.com
Website | Facebook Page | Twitter
One thing I really look forward to when staying in a Hotel or Resort is their breakfast. It can really set the mood of the day. There are some hits and misses but most of the time Hotels, specially the big ones offers a great breakfasts spread. Crimson was definitely one of them. If you are staying in one of their luxurious villas or garden rooms, you expect nothing but the best breakfast to complete the experience.
As expected, the breakfast was complete. Everyone was present… Bacons, Breads, Salads, Cereals, Eggs, Pancakes, French Toasts Etc. They were all great but I realized something missing.. Danggit! I asked one of the waiters if they have danggit – sometimes danggit in Cebu's Buffets are made to order to minimize the smell and to keep it crispy – he said in a polite and a bit apologetic tone that danggit was not available that day because they ran out of stock… What about Chorizo? He said it was not available as well… Sadness! Well, It happens.. 😀 Good thing that the Ensaymada was there to the rescue!
The best part of Crimson Resort's Breakfast was their Breads and Pastries. They were excellent! I usually don't eat "just bread" for breakfast, I am a rice person. Most of the time I skip the breads because the breads and pastries served in a buffet are usually not that good, often, they are Dry and hard. But in Crimson, it was the total opposite! Their breads were soft and flavorful, the Danish were excellent and the Ensaymada was Heavenly! I think I was able to eat 5 of them! It was soft, moist, chewy, cheesy, creamy! It is a must try! kudos to they pastry chef for making such wonderful breads and pastries.
Now here are the rest of the Buffet Spread that Perfect Sunday Morning!
So there you go! If you are staying in Crimson Resort in Cebu, don't try to skip breakfast! And pause on your no-carbs diet or you'll miss a lot of good stuff during your vacation! 🙂
Hanggang Sa Muli! Paalam!
_________________________________
By: DENCIO

Originally Posted On: www.DENCIO.com
Do You Like This Post?
Subscribe to the RSS Feed
Follow me on Twitter
Like us on Facebook
Email Me