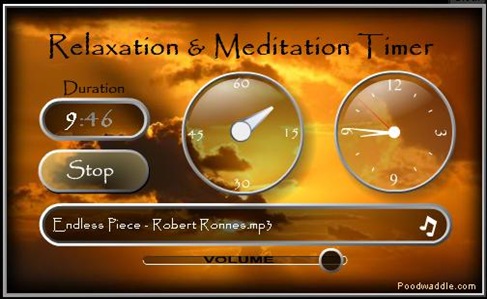 I'm so Exited to Publish This Post! I mean So-So Excited! Why? I was surfing the net as usual and I stumbled upon this cool site Poodwaddle. They offer free gadgets that you can use on your Blogs or Websites. Among the several tools that they were offering, one of them catches my full attention. The Meditation and Relaxation Tool. At first look, It sounds too good to be true but it REALLY WORKS! It is very straightforward and simple to use, just follow the link, adjust the timer, choose a background music, press begin, then Voila! Instant relaxation! Now, you can turn any room into your own Relaxation Room! Spray some Aromatics then it becomes a Spa! So Simple, again, Just Set you timer, Choose a song, press Begin, then close your eyes.. ANYTIME-ANYWHERE! All For Free! Here is what it looks like, Your should Try it! I bet you'll never get enough of it! Do it while Lying Down, Sitting Comfortably, or Sleeping At Work (Just Kidding – Half Meant), Do it Anywhere, however you please!
Just Click on the picture to Experience Total Online Relaxation! 😛
So?! How was It? Enjoying? I know you did Just like me, Relaxing While Typing this Post.. :p
CC: Cross-Posted on Multiply.
Having Trouble Reading? Read the Original Post HERE.